1999/2000 SEASON REVIEW
After the dramatic playoff gave City promotion it was a new season of hope for the Blues as they prepared for a season in Nationwide Division 1 with the knowledge that the Nirvana that is the Premiership was just a league away. Also it was announced that a deal had been struck for City to move home in 2003 when they would takeover the tenancy of The City of Manchester Stadium which was being built for the Commonwealth Games.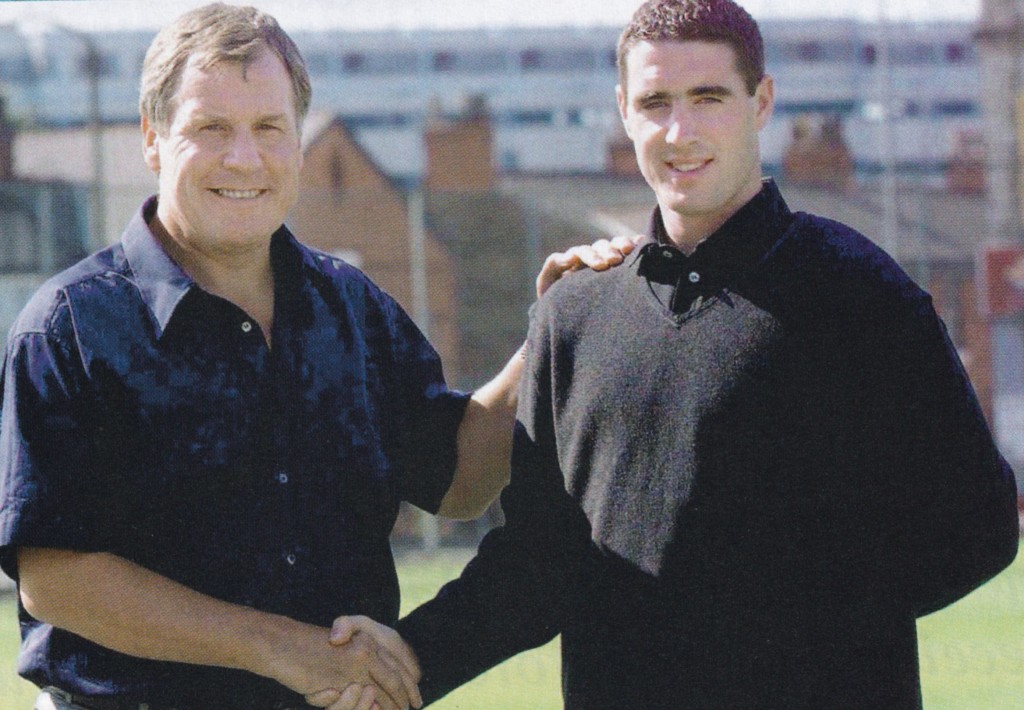 Joe Royle's first big signing of the season was Mark Kennedy who joined from Wimbledon for a figure in excess of £1M. Moving away from Maine Road, Neil Heaney joined Darlington on a free transfer.
The first pre-season friendly ended in a 2-1 defeat at Bury , City then won 2-0 at Halifax but lost again 1-0 at Bristol City . Joe Royle decided he needed to bolster his defence and signed Danny Granville on a three month loan from Leeds, and he made his debut at Everton where City lost 1-0 in John Ebbrell's testimonial.
Another testimonial followed for Roger Wylde at Stockport and The Blues won 2-0. Then after making just two appearances off the bench, Mark Robins moved to Walsall on a free transfer. The final friendly was played at Maine Road and City beat Liverpool 2-1.
For the first league game of the season City started with nine members of the play off team plus debutants Mark Kennedy and Danny Granville, but it was not to be a happy start to the campaign as an expectant Maine Road crowd saw City lose 1-0 to Wolves .
The Blues got off the mark in their next game at Maine Road as they trounced Burnley 5-0 in the 1st round 1st leg of the Worthington Cup.
They then earned their first point with a 0-0 draw with Fulham at Craven Cottage. Back at Maine Road the goals flowed again as City beat Sheffield United 6-0.
The formality of the 2nd leg of the Worthington Cup 1st leg against Burnley ended in a 1-0 win for City at Turf Moor.
The City defence were almost inpenetrable and produce their sixth clean sheet on the trot by beating Bolton 1-0 away and Notts Forest , also 1-0 at Maine Road.
Another win, 2-1 at home to Crystal Palace saw City climb the table and away from the league they drew 0-0 at home to southampton in the first leg of 2nd round Worthington cup tie against Southampton and back in the league it was nine unbeaten games in all competitions as City won 1-0 at Walsall.
Unfortunately the unbeaten run didn't continue and three defeats followed, 4-3 away at Southampton saw The Blues knocked out of the Worthington Cup and then two league defeats in East Anglia, 2-1 at Ipswich and 1-0 at Norwich . And so with nine games played City were in a healthy position lying in 4th just 2 points off leaders Birmingham.
The Blues got back to winning ways at Maine Road beating Port Vale 2-1, and then set out on another unbeaten run to take them to the top of the table.
A 1-1 draw at Tranmere was followed by a 1-0 win at Birmingham and a 2-0 win at home to Blackburn .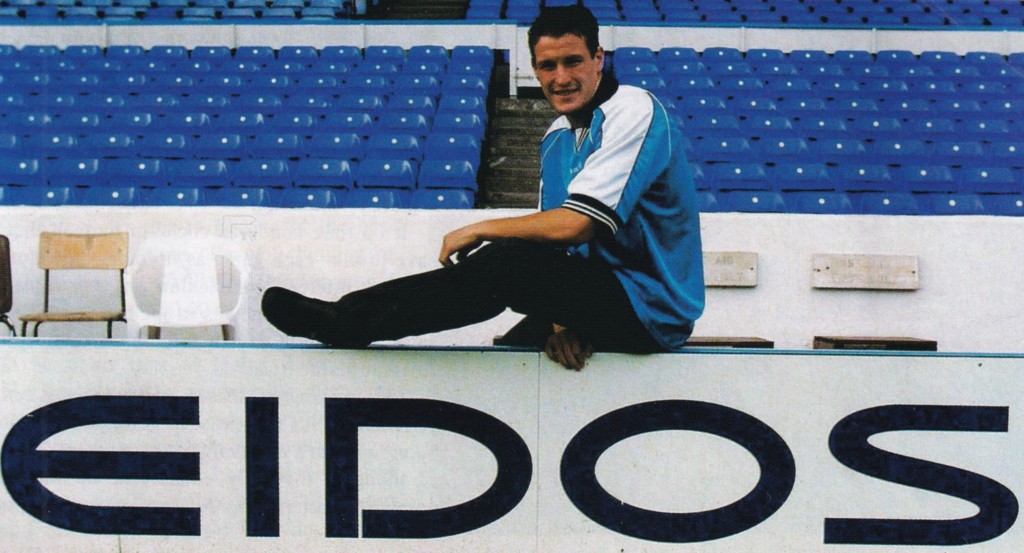 Joe Royle bolstered the attack with the purchase of Lea Peacock from Mansfield, Shaun Goater wasn't too sure of the new signing, writing in his autobiography; 'I knew I had no problem with [Lee]. Within a few days he came into the dressing room and said "When do the lads go out?" from which I could tell that he was at City for just a good time.' and Peacock went on to play a back seat roleas The Blues went on to beat Ipswich 1-0 at Maine Road and Port Vale 2-1 at Vale Park, bad news followed, Andy Morrison's season was over, he suffered a knee injury against Port Vale which could keep him out for at least six months. Danny Granville's loan move was confirmed to now be a permanent move.
Back at Maine Road Joe Royle's side marched on with their seventh home league victory on the trot beating Portsmouth 4-2, then in London drew 1-1 against QPR and beat second placed Charlton 1-0 and so after 18 games The Blues were top of the table on 39 points and a Premier League return beckoned.
It was another win at Maine Road, this time 3-1 against Barnsley, but then after eight home league wins Huddersfield spoil the party beating City 1-0 at Maine Road.
Joe Royle decides he needs to add to his strikers and lays out £1.5M to bring Gillingham's Robert Taylor to Maine Road.
Two further defeats followed, 4-1 at Wolves and a shock 2-1 home defeat to Stockport.
The Blues FA Cup campaign got off to a good start with a 4-1 win at Chester, and the goalscoring was carried into the next league game at Maine Road as Joe Royle's team beat Swindon 3-0 to stay second place in the league with the crucial Christmas period coming up.
City strengthened the midfield by outlaying £450,000 to bring in Tony Grant from Everton, and he makes his debut as the Blues beat West Brom 2-0 at The Hawthorns on Boxing Day and then three days later City beat Grimsby 2-1 at Maine Road in the last game of 1999.
City visited Crewe in the first game of the new millenium and drew 1-1 to stay second in the division, one point behind leaders Charlton and three points ahead of third placed Ipswich.
The Blues had a chance to test there form against a Premiership team as they met Leeds at Maine Road in the 4th Round of the FA Cup and unfortunately they realised that maybe they would have to improve if they achieved promotion as they were knocked out 5-2.
City's promotion hopes were kept on track with the visit of Fulham, a Shaun Goater hat-trick saw City win 4-0.
A blip followed as City lost 1-0 on their travels to Sheffield United, but they were back on track as they visited Nottingham Forest and won 3-1, in between the two games youngster Chris Greenacre left the club for Mansfield where he had been previously been on loan.
Another 3-1 win this time at home to Norwich was followed by three 1-1 draws away at Huddersfield, at home to Walsall and away to Crystal Palace, with 13 games left to the end of the season City were still in second place although on the same points as third placed Ipswich.
City slipped into third spot with a dissapointing defeat at Maine Road, 3-1 to QPR and in an effort to give the promotion push a boost Joe Royle brings in striker Lee Mills on loan from Bradford until the end of the season, however Mill's debut could not stop City falling to another defeat losing 2-1 at Barnsley.
Next up were the division's runaway leaders Charlton at Maine Road and City managed a 1-1 draw, and then their seventh match on the trot without a win ended in a 2-2 draw at Stockport.
In an attempt to shore up the City defence Spencer Prior was brought in from Derby for an initial fee of £500,000, however £350,000 was recouped with the sale of Tony Vaughan to Nottingham Forest. Prior helped the Blues to a win at the eighth time of asking as they beat West Brom 2-1 at home. The new look defence then kept three clean sheets, winning 2-0 at Swindon, and then at Maine Road City beat Bolton 2-0 and Crewe 4-0.
After a 1-1 draw at Grimsby City were still in the second automatic promotion place with four games left to play, and with third placed Ipswich one point adrift the City faithfull were confident of a return to the Premier League. The gap was opened to four points as City beat Tranmere 2-0 at Maine Road and Ipswich lose 3-1. However The Blues then only managed a 2-2 draw at Portsmouth and Ipswich cut City's lead back to two points with a win against Crystal Palace.
The penultimate game of he season saw City fans celebrating on the Maine Road pitch as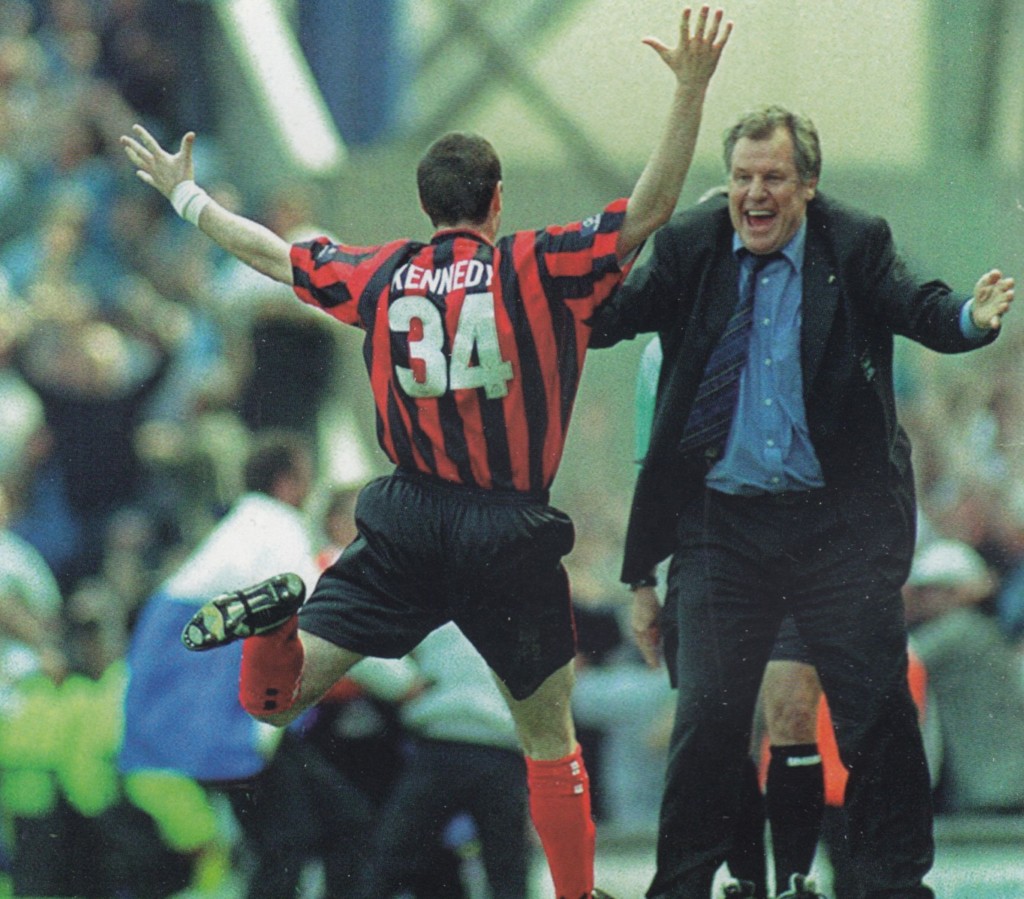 The Blues beat Birmingham 1-0. Ipswich also won however so going into the last game of the season City still needed a point at Blackburn to secure the second guaranteed promotion place. 6'000 official Blues and thousands more in the Blackburn end and outside the ground saw City win 4-1 although by half-time Blackburn had given The Blues a fright, going 1-0 up and hitting the woodwork four times.
And so the Blues were promoted back to the Big time.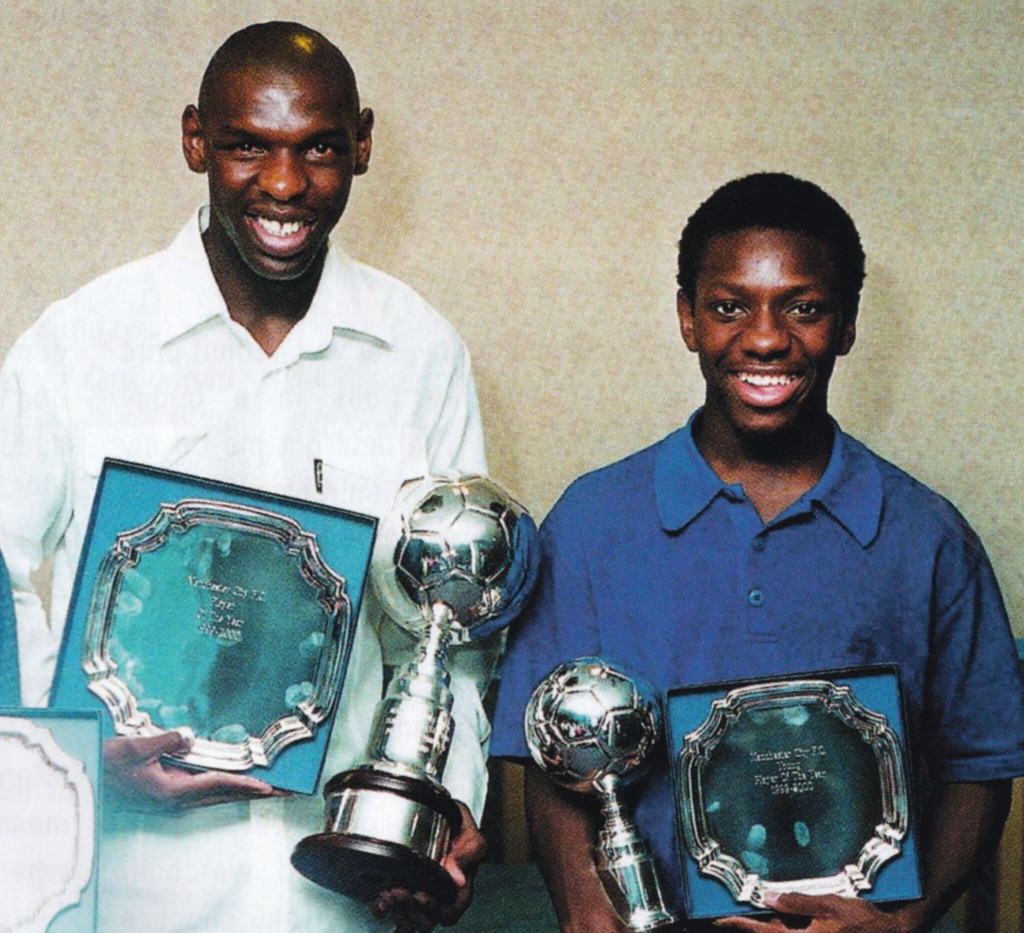 The Goat was voted City's Player of the Year, and Shaun Wright-Phillips the Young Player of the Year