1959/60 SEASON REVIEW
Even though City took £94,347 at the gate in the previous season where they dallied with relegation, the board still announced before the new season that the club reported a loss of £5,731 for the previous year
City played two pre-season games, in Scotland losing 3-0 at St Mirren , and in Germany they beat SC Tasmania 1900 Berlin 2-1.
Nottingham Forest were the visitors to Maine Road for the first game of the season and City got off to a good start with a 2-1 win.
City then lost 5-2 at Fulham and 1-0 at Sheffield Wednesday,  at home the blues won again, 3-1 against Fulham however in their next game at Maine Road City lost in a 10 goal thriller as Champions Wolves beat the Blues 6-4.
City then travelled south and beat Luton 2-1 at Kenilworth Road but then were beaten 3-1 at Highbury by Arsenal .
Luton quickly gained their revenge over the Blues with a 2-1 win at Maine Road. Bobby Johnstone then moved back to Hibernian after four seasons at Maine Road for a fee of £12,000
A great win in the Manchester derby at Maine Road, City beating United 3-0, kick-started a good run of victories, another home win saw Blackburn beaten 2-1 and then a a trip to the Seaside saw City beat Blackpool 3-1.
A rest from competitive football at Maine Road followed as The Blues drew 1-1 against Swiss Cup holders Grenchen in a friendly challenge game.
A rapid rise up the league saw City move into sixth with a great 5-1 win at Preston , and then a fifth win on the trot as Leicester were beaten 3-2 at Maine Road.
City played another friendly in Manchester against St Mirren and emphatically won 6-1.
The Blues then lost 4-3 in a classic game at Burnley which left City in eighth place on 16 points after 14 games.
At Maine Road City met top of the table Tottenham and lost 2-1, then lost 4-1 against West Ham at The Boleyn Ground.
A dour 1-1 draw against Chelsea at Maine Road stopped the rot slightly but the Blues then lost three more games, 2-0 against West Brom at The Hawthorns, 4-3 at home to Newcastle and 4-2 at St Andrews against Birmingham.
A 3-3 draw at home to Leeds followed .
At the tenth time of asking City finally managed a win, beating Nottingham Forest 2-1 at The City Ground, and so moving into the festive period The Blues were 14th in the league, with 20 points from 22 games.
In a Christmas double header City lost 2-1 to Everton at Goodison Park on Boxing Day and then two days later in the last match of the decade The Blues got their revenge at Maine Road beating Everton 4-0.
The Blues welcomed the new year with another four goal salvo at Maine Road, beating Sheffield Wednesday 4-1. and were now in 13th place in the League after 25 games.
The Citizens were then humiliated by the Saints as third division Southampton amazingly won 5-1 at Maine Road in the 3rd round of the FA Cup.
the shock waves from City's FA Cup exit carried into the league as they lost 4-2 at Wolves and then were beaten 2-1 by Arsenal at Maine Road.
With a blank weekend due to FA Cup fixtures City played Hibernian in a friendly at Maine Road, drawing 1-1.
The Manchester Derby was dominated by great goalkeeping displays by Trautmann and Gregg as City drew 0-0 against Manchester United at Old Trafford.
City's form was one for concern as they then lost 2-1 at Blackburn and then despite a 3-0 home win against Birmingham they lost 5-0 at Leicester and 3-2 at home to Blackpool , both in the league, they then lost 3-1 to Manchester United in a friendly at Maine Road.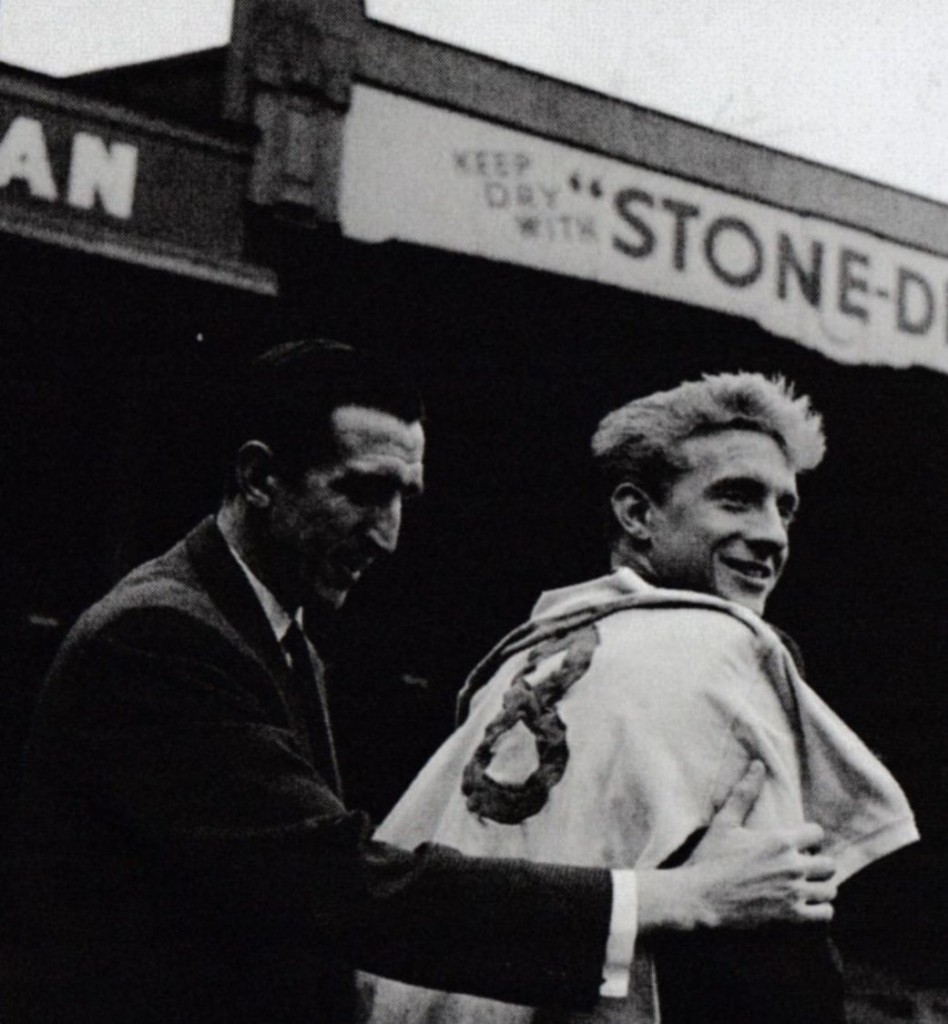 In an effort to get back to winning ways City shocked the football world as they signed Denis Law from Huddersfield for a record transfer fee of £53,000, beating the 18 month old record of £45,000 that Albert Quixall had cost United from Sheffield Wednesday.
At the time the price of gold was £12 an ounce and since Denis scaled a mere 10 stones 7lbs, his transfer fee priced him £22 10s an ounce!
Denis Law made his debut in a real relegation fight thriller at Elland Road which ended with third from bottom Leeds beating City 4-3.
Law scored in a 3-1 win over West Ham at Maine Road, but The Blues slipped into the relegation dogfight with a 3-0 defeat at Chelsea and then a 1-0 reverse at Maine Road against West Brom , however with a 1-0 win against Bolton , in front of an Easter Maine Road crowd of over 50,000, The Blues moved fifth from bottom of the league, four points off the basement.
A memorable 1-0 victory at White Hart Lane at wannabe champions Tottenham eased relegation worries further, however they then lost 3-1 at Bolton.
City needed two points from their last three matches to ensure safety from relegation and with games away at Newcastle and home to Championship contenders Burnley, City couldn't afford to take any chances as they faced Preston at Maine Road in the first of those three games.
City secured survival with a 2-1 win, and then went on to beat Newcastle 1-0 at St James' Park. And then lost at home to Burnley 2-1 as Burnley clinched the championship City finished the season three points above the relegation zone.