1933/34 SEASON REVIEW
It was a mixed start to the season as City were beaten 3-2 at Maine Road on the opening day of the season by Sheffield Wednesday, they then beat Birmingham 1-0 at St Andrews and drew 0-0 at Leicester.
The Blues earned an early double over Birmingham, beating them 1-0 at Maine Road and then gained a further point drawing at Champions, Arsenal.
A 2-2 draw at home to Everton and a 2-1 defeat at Middlesbrough saw City drop to mid-table after seven games, however with no real front runner in the Division they were only two points behind leaders Portsmouth.
Further inconsistent form brought a 3-1 win at home to Blackburn, a 2-2 draw at Newcastle and a 1-0 defeat against Leeds at Maine Road, after ten games City were now in 11th position in Division 1, four points behind leaders Tottenham.
City then beat Aston Villa 1-0 at Maine Road, drew 1-1 at Sheffield United and back at Maine Road they won again, 4-1 against Sunderland. The Blues were now fourth, still four points behind Spurs.
City continued their inconsistent form beating Stoke 1-0 at The Victoria Ground, drawing 2-2 at home to Huddersfield and losing 2-0 at Portsmouth.
The Blues then managed three wins on the trot starting with a 2-0 win at home to title chasing rivals Tottenham, then a 2-1 win at Chelsea and a 2-1 win against Liverpool at Maine Road, City had moved into fourth place and were just three points behind leaders Arsenal.
City then played a friendly against FC Austria and beat the representative side 3-0.
As is the 'predictable unpredictability' of Manchester City they then slump to an amazing 8-0 defeat at Wolves.
The Festive period brought mixed results, Derby beat City 4-1 at The Baseball Ground on Christmas Day and then on Boxing Day The Blues got their revenge beating Derby 2-0 at Maine Road and then four days later they drew 1-1 at Sheffield Wednesday.
City let striker David Halliday move to Orient before the year end.
On New Years Day the City defence had an other bad day at the office as they were beaten 7-2 by West Brom at Maine Road, and again in Manchester they drew 1-1 against Leicester to drop to fifth in the league, seven points behind leaders Arsenal.
City found their form for the third round of the FA Cup and beat Blackburn 3-1, and then in the league they gained a great 2-1 win in the league against high flying Arsenal, both games played at Maine Road.
On the eve of the fourth round of the FA Cup City bought forward Jimmy Heale from Bristol City.
A brave second division Hull came back from two goals down at Anlaby Road to draw 2-2 and force a replay in the FA Cup 4th Round. In the replay at Maine Road City found it a little easier, beating Hull 4-1.
Back in the league and at a very foggy Maine Road, City beat Middlesbrough 5-2, but then lost 2-0 at Everton and 3-0 at Blackburn, with a third of the season left The Blues were now fifth in the league, five points behind leaders Derby.
In the fifth round of the FA Cup a record Hillsborough crowd of nearly 73.000, saw Sheffield Wednesday draw 2-2 with City, the game was sadly remembered more however, for the death of a Wednesday fan who was crushed to death in the crowd, and although it was found to be accidental death, Wednesday were advised that more crush barriers ought to be erected at the ground.
The replay at Maine Road saw City beat Sheffield Wednesday 2-0, however they suffered quite a few injuries, to Busby and Tilson amongst others, and had to make five changes for their league game at Leeds where they were beaten 3-1.
The Sixth Round of the FA Cup was more memorable for the attendance rather than the dour game that was served up before 84,569 fans at Maine Road, a record crowd for any English club ground, which still stands as of 2014. City beat Stoke 1-0 and were in the semi-finals.
Back in the league City drew against their FA Cup Semi-Finalist opponents Aston Villa, 0-0 at Villa Park, and then beat Sheffield United 4-1 at Maine Road.
The FA Cup Semi-Final was played at Leeds Road and City were the only team 'to turn up' as they swept aside Aston Villa 6-1.
in the league the results were indifferent as they drew 1-1 against Newcastle and beat Stoke 4-2, both games played at Maine Road, then lost two games on their travels, 1-0 at Huddersfield and 4-0 at West Brom.
In a dress rehearsal for the FA Cup final City beat Portsmouth 2-1 at Maine Road, then drew 0-0 at Sunderland and  crashed to a 5-1 defeat at Tottenham.
City then splashed out £5,000 to bring talented full back Sam Barkas from Bradford City, he sat out a 4-2 win against Chelsea at Maine Road
After being finalists the year before City travelled to Wembley, confident that they could this year lift the trophy. Despite going a goal behind, City beat Portsmouth 2-1 to win the FA Cup.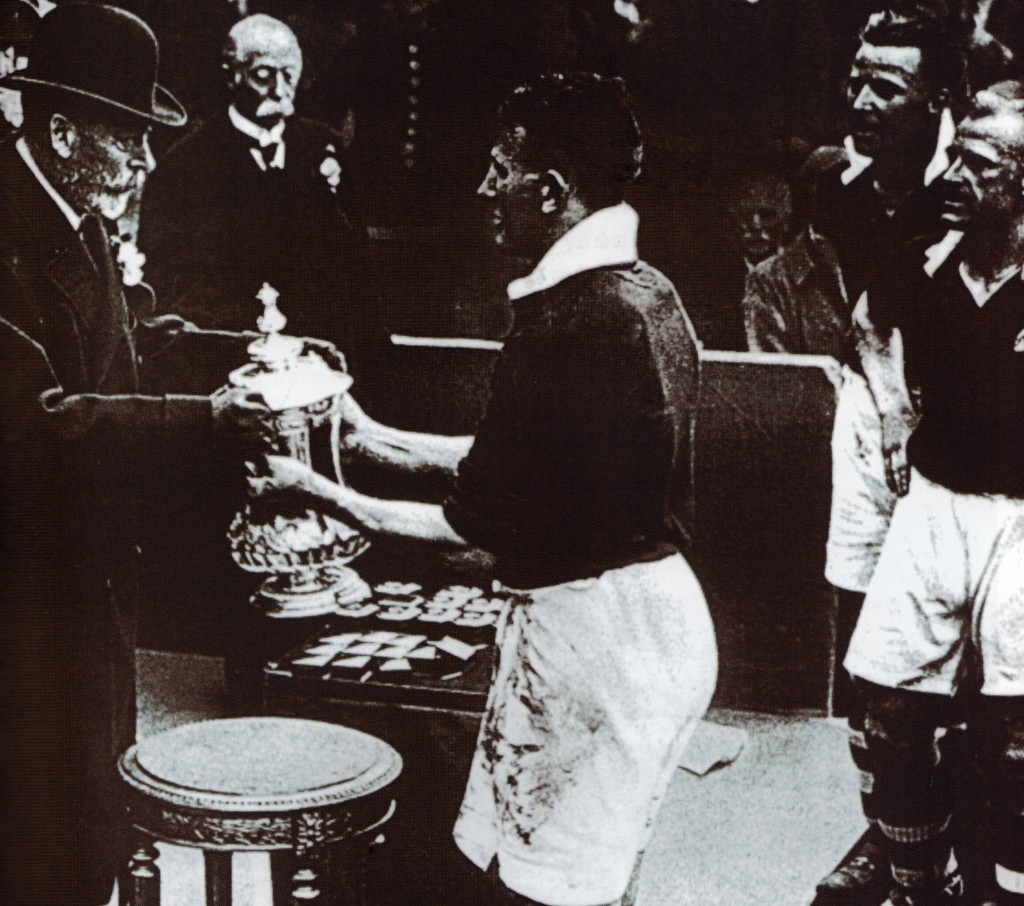 In the league City then lost 3-2 at Liverpool and then on the last day of the season they beat Wolves 4-0 at Maine Road to finish in fifth place in Division 1 on 45 points.
City then went on an end of season European tour, first stop was Paris where they beat Racing Club de Paris 3-1.
The squad then flew to Italy where they drew 3-3 against Fiorentina.
PLAYERS AND OFFICIALS PICTURED AT THE PIER IN NICE

(click to enlarge)

Thanks to Paul Ward for this rare photograph, Pauls grandfather, Peter Percival  is sat at the front holding his hat
Back to France and two games in two days in Nice, the first was a 5-0 defeat by Milan and then a 5-3 victory over Austrian champions Admira Wien.
The tour finished with a 4-4 draw against Olympique Marseille.