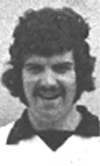 Michael Batty was born in Manchester on 10th July 1944.
He started his career as a Centre Half for City, making his debut at Easter in 1963 against Bolton. Over three years he made just thirteen League appearances, being backup for the City defence, rather than first choice.
In February 1966 he joined Rhyl, but never made an appearance, before moving on to Mossley in the same year, where he made 320 appearances, scoring 20 goals before his retirement in 1973.