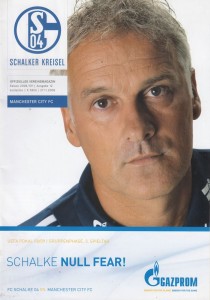 SCHALKE 0 CITY 2
UEFA Cup 2nd Group Match
27th November 2008
Attendance 54,142
Scorers Benjani(32), Ireland(66)
Referee Alexandru Tudor (Romania)
City Hart, Richards, Dunne, Kompany, Garrido, Ireland, Hamann, Wright-Phillips, Vassell, Sturridge, Benjani – subs Jo(84), Ball(45), Schmeichel(unused), Ben-Haim(unused), Logan(unused), Glauber(unused), Evans(unused).
Schalke Neuer, Westermann, Bordon, Rakitic, Farfan, Rafinha, Altintop, Kuranyi, Pander, Engelaar – sub Howedes(73), Asamoah(63), Sanchez(80), Schober(unused), Kobiashvili(unused), Ernst(unused), Zambrano(unused)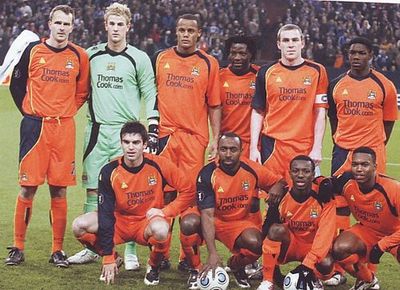 WHAT THE PRESS SAID
Benjani and Ireland put Hughes' side in derby mood
The Tannoy announcement giving transport details for 'all Man U fans' predictably upset the travelling support, but that irritation apart this was another good night for Manchester City.
Next up it's their illustrious rivals – the world's richest club versus the world's best supported club – and City returned from Germany to prepare for the Manchester derby with a victory that took them within one point of the next round.
Schalke had never been beaten at home by an English team, but fans' favourite Benjani and Stephen Ireland snapped up the goals against a strong German side to wreck that record in front of the 54,000 fans crammed into the Veltins Arena.
Gelsenchirken was a graveyard for England's World Cup hopes two years ago, but it staged City's second celebration of the week after their 3-0 win over Arsenal, and a draw at home to Paris St-Germain next week will see them through.
Benjani, loved by the fans for his debut goal in February's Old Trafford win, is making up for lost time after missing the first three months of the season with a ruptured thigh muscle, and he looks certain to be facing Manchester United again.
Manager Mark Hughes, who was without star man Robinho, said: 'It looked a difficult game on paper but we coped quite easily. We were always in control and strong on the break. I'm very pleased with the manner of an excellent performance.
'People possibly thought this might be beyond us, but I know the quality in this squad, and we were a threat all night.
'We haven't had that many excursions into Europe recently, so it's important for us to make our mark. We've got six points now and it would be very surprising if we didn't go through.'
Schalke were jeered at the end by their disgruntled fans, who expected more after a bright beginning by Jermaine Jones, the son of a GI stationed in Frankfurt who was in the Germany side beaten in Berlin by England and seeking revenge.
The midfielder almost made the breakthrough for Schalke after eight minutes with a good low effort that Joe Hart did will to tip around a post, then he launched a fine 19th-minute volley under pressure that tested the goalkeeper to the full.
But as City fans briefly wondered if there might be a long night ahead, Hughes' team picked up pace to work their way into the game and Manuel Neuer had to save smartly from Darius Vassell's header from a Javier Garrido free kick.
That should have set the alarm bells ringing for the Germans, but in the 32th minute a sloppy piece of defending from international centre back Heiko Westermann allowed Daniel Sturridge to whip a threatening centre across their box.
The ball evaded Ireland's purposeful run, zipping behind the midfield raider, but it found Benjani at the far post and the Zimbabwe international carefully cracked his second goal of the season into the roof of Neuer's net.
The Germany Under 21 goalkeeper, who is being linked with a possible move to City when the January transfer window opens, was hardly to blame for Schalke's drop in fortune after being let down badly by his defence.
But Benjani's opener transformed City for the rest of the half. They seemed to acquire an extra vigour and confidence, and Ireland almost put stunned Schalke two goals behind with a fierce shot that Neuer saved well.
The home side, seventh in the German league and coming off the back of a 3-1 win at the weekend, struggled to regain their momentum as City kept their grip on the game after half-time. Shaun Wright-Phillips, an impish thorn in their side, launched a sizzling 25-yarder that Neuer had to tip over the bar before the harrassed Westermann was reduced to halting Sturridge by foul means that escaped a yellow card.
City's following were singing again after 66 minutes and Benjani again played a key role.
This time his shot looped up after being blocked by a Schalke defender and the ever-alert Ireland nipped in to beat Neuer to the ball and roll it underneath the stranded goalkeeper into the net. Hughes and City's bench erupted in air-punching delight. It was clear now they were going to end Schalke's proud record.
Schalke face a tough task next against Twente, coach Fred Rutten's previous club, as City lord it over Group A with two wins out of two.
PETER FERGUSON WRITING FOR THE DAILY MAIL